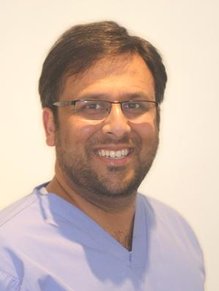 Dr. Farah Afzal
Dentist
Farah graduated in 2009. She is gentle and caring with all patients.
Since graduating in 2009 from NTRUHS,India, I have continued by learning in post graduate learning and have been attending various courses to further increase my knowledge in various aspects of dentistry.
My patients needs are my primary concern, I will work with you to create a long term solution for your oral needs. I enjoy getting to know my patient, providing a welcoming environment, therby caring for your dental needs.
When not at work I enjoy swimming, cooking and spending time with my son.
GDC no:230107
Our Team
Our goal is to make all of our patients feel right at home in our office. We put your needs and comfort first to achieve efficient and timely treatment. Our staff is professionally trained and are dedicated to providing friendly and personable services to each patient.
Dr. Siddique Mazher
Implant Surgeon
Brief description
Dr. Imran Mirza
Dentist
Imran has vast (18 years) experience in Genral Dentisty Since graduating in 2001 from RGUHS India, Imran Mirza has gained a wide range of experience working in India, Dubai, Oban, England and now Glasgow.
Imran enjoys doing cosmetic dentisty,. He has been accreated to provide short term orthodontic treatment and lumineers.
He aims to provide highest quality dental care in an friendly and professional environment.
Imran is intrested in complex restorative work and complex bridge work.
When Imran isnt at work he likes playing badminton and cricket.
GDC no:111309
Clare Mcmanus
Dental Nurse
Clare McManus has been a part of the dental team since the beginning i.e since 2012. she qualified as a dental nurse in January 2015 after studying for 3 years.
She is very confident and enthusiastic member of the team. She will welcome you to our practice environment with a friendly smile.
GDC no: 261323